Authorize.net is a great gateway for online shopping carts and e-commerce. They offer you two options upon signup: you can get the payment gateway by itself, or you can get the payment gateway and merchant services. Many merchants will choose their bundled gateway and merchant services package for convenience, but authorize.net has high rates and fees. Fattmerchant uses Authorize.net as a gateway as well but, as always, we have NO markups compared to the 2.9% markup they charge on all transactions.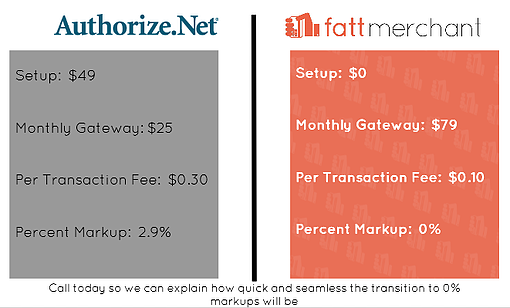 The infographic on the right shows a clear side-by-side comparison of our pricing. If you are saying to yourself "but what about the monthly gateway fee – Authorize.net charges $25 and Fattmerchant is $79," good catch. The $54 difference is pretty nominal though, all things considered. If you run more than 275 transactions, you'll make up that cost in just the transaction fee savings alone! 0.20 x 275 = $55.. and this doesn't even include the savings you'll reap from our no markup policy.
So if you're interested in getting a shopping cart for your online store, it's actually cheaper to go through us than to go directly to Authorize.net! Have a current Authorize.net account and are using their merchant services? Give us a call today and we'll explain how we quickly and seamlessly integrate into your existing account so you can keep your cart, but ditch the fees.