Way back in prehistoric processing times, the only payment options available to mobile merchants were either cash or check. Today wireless credit card processing, and their innovative processing machines, have given mobile merchants liberation — access to the same credit card networks as retail businesses!
This new technology allows merchants to handle credit cards, as well as cash and checks, without sacrificing security. It also lead faster processing times, compared to traditional landline processing and the ability to process secure transactions through wireless terminals from virtually anywhere and at any time. This means that finally mobile merchants were able to say "hello" to more revenue on-the-go. The wireless process is really simple and very similar to traditional point-of-sale credit card processing. Here's how it works: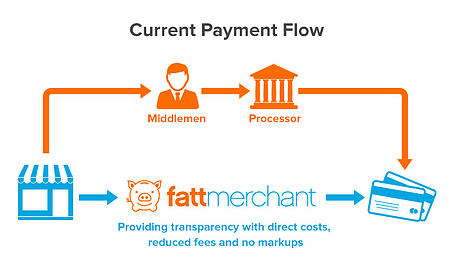 How It Works
The merchant slides the customer's card through our wireless credit card machine and enters the sale amount. Similar to cellular technology, the terminal connects to a radio tower and sends the credit card information (securely) and the amount of the purchase over to Fattmerchant.
We pass this information to the bank that issued the customer's credit card (issuing bank). They check to see if the card is valid. If the amount requested is available on the card, it sets aside the amount of the purchase for the merchant.
The issuing bank sends back an approval or decline message to Fattmerchant.
The transaction information is sent back to the mobile credit card machine. It only takes about 10 seconds to complete the transaction (depending on coverage and network).
At the end of the day, the merchant manually or automatically "settles" their terminal batches and this begins the final step in the transaction process. Once the settlement process begins, the funds are transferred from the issuing bank and deposited into the merchant's account.
That's all, folks!
Wireless Processing vs Mobile Processing
Yes, there is a difference between wireless and mobile credit card processing. People often get them confused or use the terms interchangeably. They are both great payment processing solutions that incorporate the ever-so rapidly changing technology in this boring industry. Both services allow merchants to take their businesses outside of traditional processing, but they each offer a merchant something different.
Wireless processing involves a wireless credit card terminal, a keypad, and a display screen. Wireless terminals can print paper receipts, and do not require a direct hookup to a phone line or Internet connection, but they instead work independently, and hence, wirelessly to accept credit cards at various locations. This method of processing is widely used in service industries, such as delivery, repair, and taxi driving. Basically anywhere that employees need to process credit cards from a customer's home or outside of a physical store.
Mobile card processing allows merchants to accept credit and debit cards through their cell phone, and can send the customers a text or email receipt. Sometimes this involves an app from the processor or a piece of equipment that attaches to the phone. The technical aspects of this method are usually varied depending on your mobile credit card processor.
Interested in mobile or wireless credit card processing for your business? Fattmerchant can offer your business mobile payment solutions that you'll love.
Fill out the form below to request a free savings analysis.