Technology keeps updating, evolving constantly to make operations easier, faster and more efficient. Whether you're starting a new business or looking to revolutionize your company, it's imperative to stay up-to-date on advancing technology. If you're a restaurant owner, this includes a mobile restaurant POS system. Mobile POS systems have made their appearance in credit card processing for the restaurant industry, and they aren't leaving anytime soon. Look out fax machine! You'll need to make some room for traditional POS in the technology graveyard.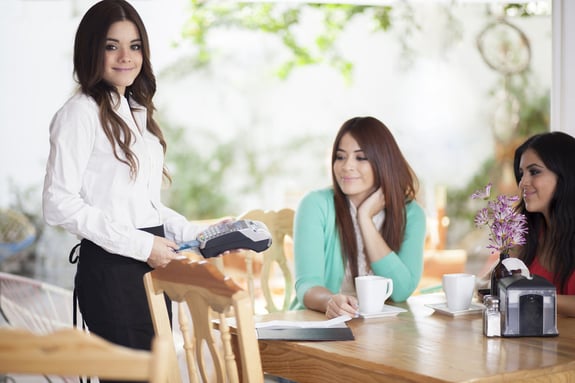 What is a "Mobile POS System?"
Mobile terminals enable merchants to go beyond traditional point-of-sale and cash-only operations. A mobile point of sale system takes the functions of a cash register or electronic point of sale terminal and turns it into a smartphone, tablet or wireless device. This provides a new, updated and innovative way to accept credit cards from your customers.
Benefits of Mobile POS for Your Restaurant
Easy. Mobile POS systems are easy to setup and to use, especially for people who have experience with mobile devices. For customers, it's a simple process that requires minimal effort. Swipe, click, sign. It even gives the customer the option to either print or email their receipt.
Fast. Saving time is a huge benefit to many restaurants. In a full-service restaurant, paying the bill can be done instantly right at the table. This speeds up the sale process by eliminating the time the server would have to spend traveling back and forth from the table to the traditional POS system. Speeding up this process results in reducing the total amount of time a customer spends waiting at a table, which opens the opportunity for more customers to be served—and more money to be made!
Efficient. In a fast-paced environment, a mobile POS system for your restaurant can improve customer service and overall efficiency. By decreasing legwork for servers running back and forth from the kitchen or cash register, this allows them to focus more time on the customer. A mobile POS system is also cost effective and useful for customer data retrieval. Information is stored from all previous purchases, so when a customer makes repeat purchases you can easily access their previous transactions. This can help anticipate buying trends and purchase patterns.
One important factor to consider before purchasing a mobile POS system for your restaurant is your internet connection. If the internet is slow, unreliable or it goes down, you may be unable to successfully or easily process transactions. Investing in a reliable internet connection, so you can serve your customers faster and better, is definitely worth it.
At Fattmerchant, we've got the mobile readers you need to start accepting mobile payments in your restaurant. This requires absolutely no additional equipment to purchase. In fact, all a merchant has to do is download the app on their mobile device, activate the application, and they have a handheld terminal at their fingertips. Easy to use, quick setup and your customers will be much happier with your new and improved service. And did we mention you can save over 40% on credit card processing with us? Find out how.