Last weekend Fattmerchant had its first ever trade show and our beautiful booth was set up at the FPMA Sunshine Food & Fuel show. For those not familiar with what the FPMA is, it stands for the Florida Petroleum Marketers Association. The great idea behind this trade show is so convenience store chains, supermarkets, grocery stores, beverage retailers, major oil and fuel retailers and wholesalers can come together and market their stores. It was a great opportunity for Fattmerchant, a subscription based merchant service provider, to go out and market to these small businesses and franchises. We met a lot of great people and definitely learned a thing or two from them. We also learned a few things ourselves since this was our very first trade show and here are a few great tips that we found helpful for our next trade show adventure. I found this article and it gave some great advice to having a successful booth and trade show.
Check out the entire article here http://www.adpulp.com/9-tips-running-successful-trade-show-booth/
Tips for Trade:
1. Try to Get a booth close to the main walkway-
The article states that putting some extra elbow grease into your booth gives you some increased probability that the people walking by will stop and check you out, that's why you should aim to get in the main walkway or close-by. Fattmerchant's booth was near some popular brands which meant more foot traffic!
2. Focus on the Quality of your display-
Making your display organized and easy to understand is important when designing your booth. We kept our booth clean, bold, and to-the-point.
3. Use social media to spread the news-
Spreading the news or just creating awareness about your brand is essential. Make posts before, during, and after the show – any and all that apply. This is a great tool to use to blast out your trade show promotions as well. Bottom line- the more people that know about your booth and what you're offering, the better.
4. Showcase your new stuff-
Trade shows may or may not be a good time for unveiling new products.. so decide before you go what you are going to showcase. Promotions ideally should excite both new and existing customers.
5.   Don't Restrict Prying Customers-
Let your customers touch and see your products so they can try things out for themselves.
 6. Practice Your Customer Services Skills-
First impression is key to meeting new customers. Everyone at your booth should knows the ins and outs of your product so they can effectively answer any of attendees' questions. This is important especially if you are using brand ambassadors at your exhibit.
 7. Give Away Free Swag-
Create something that will leave a lasting impression on your booth, so people are drawn in to visit you and other attendees will recognize the swag item when they see people with it at the show. If you can, include your company's details on your swag gifts so they can contact you. At our booth, we gave away orange beaded necklaces – so simple, yet such a big hit!
8.  Don't pack Until everyone has left the building-
We know you may get tired, but of course wait until all the attendees have left before packing up. Stay energized!
9. Collect and Analyze Data-
Take a look at all the information you have collected and use it to connect with potential customers.  Follow up with existing customers that you ran into and get their feedback.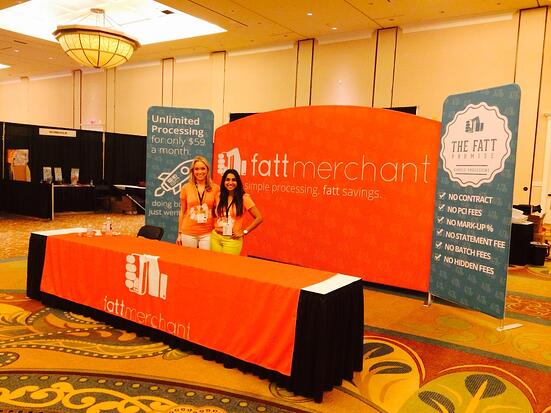 Suneera and Lyndsey setting up the Fattmerchant booth!